So what's an admin interface, anyway?

The administrative panel, also known as a back office, is a standalone interface designed for accessing and manipulating application data. Moderating products, processing orders, tracking delivery, and gathering feedback are just some examples of day-to-day operations that can be managed with the help of the admin interface.

Apart from routine tasks, a well-developed admin should be able to provide statistical and analytical reports on application's metrics, display charts and graphics, and gather user-related insights. In other words, the operational panel can be extended to handle much more complex activities, such as running promotional campaigns and evaluating the results, that are highly significant to business growth.

The question is what qualities should an ideal admin interface have?

Here's the list of 5 things to consider before choosing the best admin option for your project:

Third-party integrations

What services do you have in place to manage your application? Most teams are using Gmail to handle business correspondence, Intercom or Zendesk to communicate and resolve issues with customers, Basecamp to manage projects – you get the idea.

To spare your team the pain of jumping from one web page to another, make sure your admin panel is compatible with third-party plugins and APIs – this way you'll be able to integrate all the crucial services into one place.
Installation and setup time

Some admin solutions take longer to set up than others. Ask yourself if you're ready to wait several months until your admin interface is finally developed from scratch. Better yet, are you eager to invest your time in learning about one technology just for the sake of a cheap open source admin interface that wouldn't even scale? These are the questions you should ask yourself before deciding on a suitable option.
Scalability

Imagine this: the admin panel is all set up, but now your Business team is saying they need a real-time chat widget and a few other features integrated by the end of the week. As usual, the developers are knee-deep in work and simply can't make it by the deadline. The performance slows down, operation managers don't have the tools to efficiently handle the overwhelming workflow, and, consequently, thousands of dollars go down the drain.
If you're managing a fast-growing startup, this is the type of thing you can expect to happen every other month. It's critical to keep up with the pace, so do yourself a favor – make sure your admin interface is ready for spontaneous changes in the future.
Clear UI

The admin panel is not the user interface of your web application, so there's no need to put too much work into design. However, the admin interface has to be clear and efficient enough to let your Business team effortlessly perform their tasks every day.
Ideally, your teammates should be able to find the info they're looking for or act on the data in just three clicks. The interface must be intuitive and concise and the font shouldn't be too fussy. "Simplicity is genius", remember?
Price

Money may not always rule your mind, but it definitely does rule your budget. There is a British saying that goes, "Penny wise, pound foolish". This can be applied to many startups that cut costs on small things and end up damaging the bigger picture.

Saving resources on the administrative panel is exactly that. Your revenue, for the most part, depends on how efficiently the team can perform their every day duties. The goal is to equip all team members with the tools to make the process easier. So spend wisely, but don't be cheap.
Now to the next question: how to create an admin interface and what solutions are available out there?
Build it yourself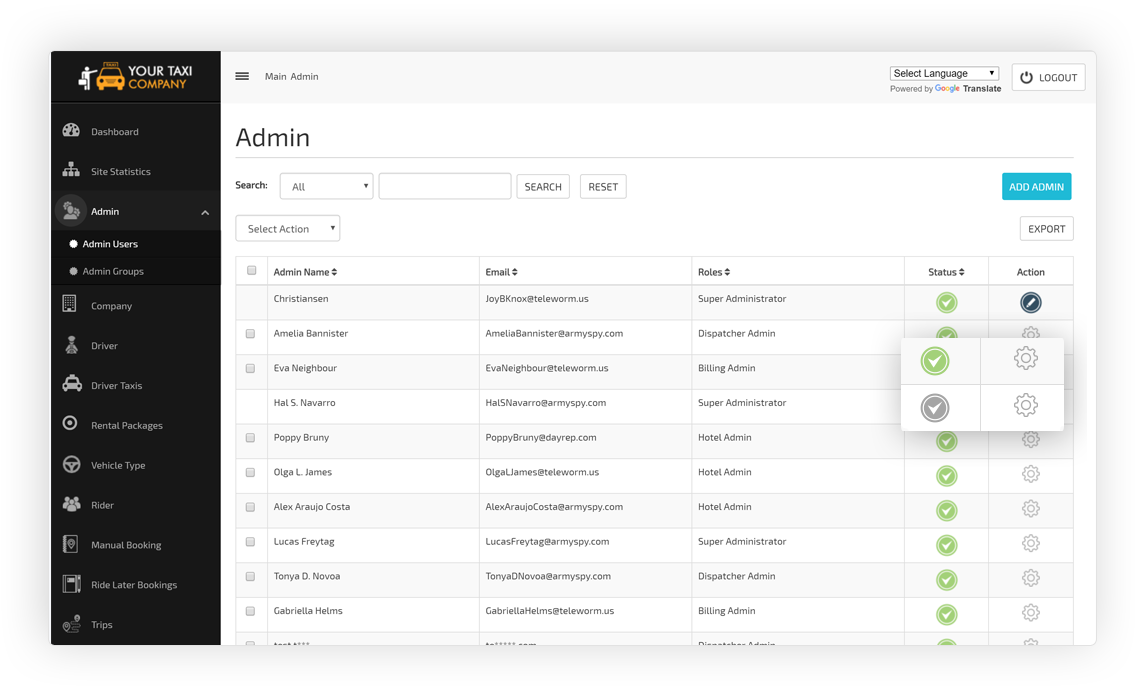 By our estimates, nearly 90% of all web applications are run through a homebrewed, DIY-style admin interface. At first, it makes sense. We know the drill – if you want something done right, do it yourself. You have a Developers team, you might as well have them build an admin interface for free, right? Wrong.
It might seem like you're not investing any resources when deciding to create an admin in-house. But you do, actually. As explained by UK's digital finance service Monese in their report, the development process might take several months to complete and all that at the cost of your developers' paid time.
Unknowingly, you invest thousands of dollars in the development, design, and further maintenance of the administrative panel. On top of that, you distract your team from the main goal of your business – enhancing and growing the customer-facing application.
Another issue has to do with scalability. The admin interface is never quite done and dusted as the functionality requirements will keep increasing in direct proportion to your company's business growth.
Use plugin libraries
Depending on the tech stack and web framework of your application, you can implement a respective plugin library, such as ActiveAdmin for Ruby on Rails, DjangoAdmin for Django, and LaraAdmin for PHP/Laravel, just to name a few.
It's definitely less time-consuming than creating an admin interface from scratch, since your backend developers get all basic CRUD tools right away – create, read, update, and delete. However, the usability and scalability of such admin panels remain unsatisfying. The UI has been stuck in 2005 and never changed since. Also, there are no pre-built widgets or advanced analytics tools – any new feature has to be coded and integrated into the framework manually.
To sum up, generated admin solutions can help get rid of the development part, but they still require ongoing maintenance.
Use templates
Ready-to-go bootstrap solutions are definitely the cheapest option out there for those who are just starting out. There are hundreds of them available on the web, usually varying from $10 to $50 in price.
For this fee, you'd get a template with admin interface elements in HTML or CSS. What that means is that your in-house team will be spared the burden of design and typesetting, but you'll still have to integrate and maintain the admin interface yourself.
Template packs generally include at least one dashboard homepage, a range of command buttons, and the ability to add charts, graphics, tables, and cards to your web admin interface. Depending on a template, you can also expect to choose from various UI elements and animations.
On the downside, such themes lack flexibility and anchor your admin interface to a particular template architecture, which will definitely backfire as your business operations continue to scale. So if you're just testing out an MVP, it might be worth a try. However, if your project already has a complex business logic and is growing by day, you need to look for a web admin interface that will be able to promptly scale as your operations expand.
Install a SaaS admin solution
Now this is something fairly new. A ready-made SaaS admin solution, such as Jet Admin, integrates with your application's database (PostgreSQL, MongoDB, etc.) or web framework (Django, Ruby on Rails, Laravel, Node.js, etc.) and automatically generates an admin interface for your app based on your data.
Jet Admin is a universal admin panel, so it already has all the tools necessary to manage any web application, whether it's ecommerce, marketplace, mobility, real estate, or even foodtech. Display business insights in the form of a chart on your dashboard, track products on the map, render your data as a calendar, or moderate the onboarding process in a Kanban board – everything is possible in Jet Admin.
Quick installation. You can expect to install Jet Admin in as soon as 5 minutes regardless of your tech stack! All you have to do is integrate Jet's comprehensive API with your database and get down to work.
Scalable usage. The greatest advantage of SaaS products is their high vertical scalability. Jet is a fully customizable solution, meaning your Operations and Business teams can drag-and-drop and edit interface elements without asking the developers to do so.
Maintenance. Since Jet Admin is a cloud service, you can expect regular updates for your admin that will be installed automatically every month. What's more, the admin provider has a public Slack channel where you can report bugs, ask for help with installation, and suggest improvements.
Extensibility. Dreamt of having a chat window inside your admin interface so you won't have to go back to another web page every time? Or maybe a button for blocking a user? Anything you want. Jet Admin has developed a set of features that allow for faster third-party integrations through API.
Integrations. Gmail, Intercom, or Twitter – integrate all of your favorite third-party services into Jet Admin. Let's say you keep contact information of users in your admin interface and receive analytics on their user behavior in Amplitude. With Jet Admin, you can comfortably display and manipulate all the data in a single web page of your admin panel.
Security. You might be arching your brow, "How can a third-party service guarantee the safety of my private data?" Fair enough, most SaaS services aren't reliable enough – however, Jet is.
How so, you may ask? Jet Admin is a SaaS frontend application that communicates with your database through a plugin that generates an API for your app and forwards your data directly to the end-user browser. You can rest assured that Jet hosts only your admin interface without ever accessing or, let alone, collecting your private data.
Final thoughts
Choosing the right admin interface solution might be the most significant investment for your business. This decision will predict whether you place or remove a burden on your in-house IT and Business teams. By remembering our 5 main criteria for choosing an admin panel and picking wisely, you are going to grow your application efficiently and generate more revenue along the way.